The Frederick Douglass Scholarship
March 09, 2016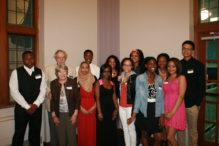 Mr. and Mrs. Richardson have been leaders in giving back to the community for decades. When Al retired, he planned to devote himself to volunteer work. Together, the Richardsons have given generously of their time and talent in addition to financially supporting numerous organizations and efforts to make Erie a better place.
Being great advocates of Erie's public schools, Peggy and Al Richardson created the Frederick Douglass scholarship in 1997.
"We founded and fund this scholarship as part of our calling to give back to others not so blessed," said Al Richardson. "We want it to be an incentive for African American public school students to apply their native intelligence and get a college education needed to fulfill their potential and have productive adult careers."
The scholarship was name after Frederick Douglass, a self-educated man, who escaped slavery to speak out for abolition and social reform. As an adult, he co-founded an anti-slavery newspaper, and after the Civil War, was appointed to several government posts in Washington, DC. Later in life, he served as American Minister to Haiti.
The Frederick Douglass Scholarship helps African American youth in the City of Erie obtain a college education needed for productive, self-sustaining wage adult careers, thus following the example Frederick Douglass set of fulfilling their potential. To date, The Frederick Douglass Scholarship has awarded 209 scholarships totaling over $417,000.