Erie Women's Fund
Give Now
Member Listing
Calendar of Events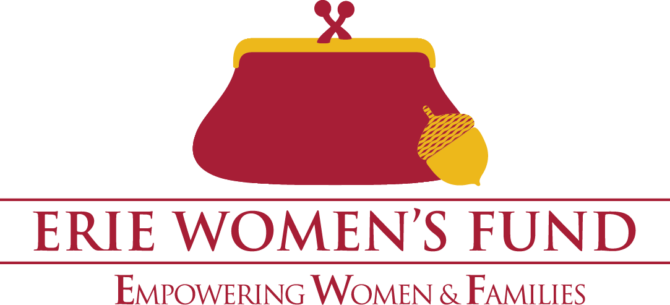 Mission
The mission of The Erie Women's Fund ("EWF") is "Empowering Women and Families". EWF educates and inspires its members to positively impact the lives of Erie County women through philanthropy and community engagement.
---
WHO
In 2007, twelve altruistic women sought to combine their philanthropic efforts to make a difference in our community. Today, EWF has over 120 like-minded members who have given over $480,000 to local non-profits that Empower Women and Families.
WHAT
Collectively, we Empower Women and Families! EWF provides financial grants, hosts enriching educational forums and engages members through informational meetings and social gatherings.
WHERE
Throughout the Erie community.
WHEN
All year long, we are involving members through in-person (large and small) events and online activities to fulfill our mission for philanthropy. The amount of participation by members is an individual choice; there is no requirement of time.
WHY
For a purposeful giving and collective impact!
To demonstrate our shared values.
To express the power in numbers.
To make a difference .
HOW
With women like YOU! Won't you join us? Click here to learn more!
Please commit as you are able:
Platinum ($2,500 annually)
Gold ($1,000 annually)
Silver ($500 annually)
Bronze ($250 annually)
Group ($1,000 annual commitment, paid in full at one time, for up to 10 women)
Group membership only permitted for one full membership year
Already a Member?
Are you already a member of The Erie Women's Fund and would like to be more involved? Click here for information on the Erie Women's Fund Membership Committees.
Frequently Asked Questions
Click here for some frequently asked questions about the Erie Women's Fund.
---
EWF 2019 Major Grant RFP
We are seeking proposals for projects that address the self-sufficiency gap by concentrating on basic minimum needs in any of the following areas:

Transportation
Health
Work Force Training/Education
Housing
Child Care
Food
Healthcare
The grant could be a maximum of $100,000 and should be able to be completed within a 12-month time frame.
Eligible Organizations: Applications may be submitted by any Erie County 501(c)3 organization. Collaborative efforts are encouraged, but not required.
Ineligible Organizations: Applications submitted by for-profit businesses, sectarian religious activities, fund-raising only purposes or hospitality projects will not be considered
Deadline: Applications must be submitted here by March 29, 2019.
Other Important Dates: Finalists will be selected May 23, 2019; Site Visits and Interviews will be conducted in April and May of 2019; the grant will be awarded at the Erie Women's Fund's Summer Event in July 2019.
---
Erie Women's Fund Newsletters:
For more information or to join, call us at (814) 454-0843.