Erie Women's Fund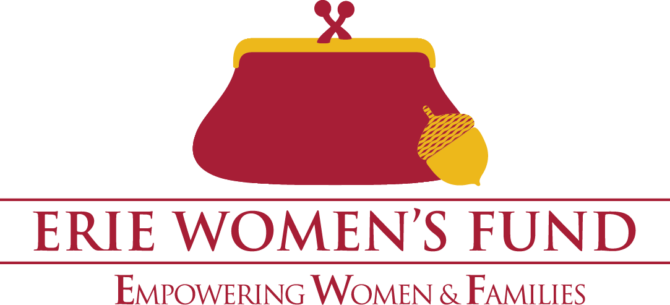 In 2007, The Erie Community Foundation established the Erie Women's Fund a women-led donor advised fund devoted to Empowering Women and Families.
Read below to learn more about The Erie Women's Fund and how you can get involved!
What is the benefit of joining the Erie Women's Fund?
You are part of a women-led philanthropic group whose mission is to increase awareness about our community, and use that awareness to drive positive change.
How do I get involved?
(Step 1) The first step is to become a member! Erie Women's Fund has four levels of individual annual membership: Platinum ($2500), Gold ($1000), Silver ($500), and Bronze ($250). A Group Membership enables ten women (or less) to join together for $1000 annually.

(Step 2) Volunteer on one of our four committees!
- Education and Research
- Grants
- Membership
- Events
- Communications

(Step 3) If you don't have time to volunteer, you can absolutely join EWF without a time commitment (see Step 1, Membership Levels). We understand our supporters are THE most important part of our success, and sometimes you just cannot do it all. We encourage you to be as involved as you are able.
What is the deadline for my donation?
The Erie Women's Fund operates on calendar-year basis. Any donation received by December 31 is used to determine the following year's Major Grant value. Memberships established after August 1 are effective through the following year.
What if I want to give more?
You may donate additional dollars at any time; your gift will be credited to the calendar year in which it is received.
What has EWF accomplished in the last 5 years?
Our first major grant was as a founding member of Erie Together, a joint venture between the Mercyhurst Civic Institute, GECAC and United Way of Erie County. By uniquely addressing poverty at both the individual and systemic levels, Erie Together helps low income families find their way out of poverty. We have made grants to more than a dozen other local nonprofits, here is a complete list: Achievement Center, Bayfront Center for Maritime Studies, Early Connections, Erie DAWN, General McLane Foundation, Habitat for Humanity, Hamot Health Foundation, House of Mercy, Mercyhurst University and Civic Institute, Multicultural Community Resource Center, Mystic Mountain Training Center, The Porreco College, SafeNet, Sisters of St. Joseph Neighborhood Network, Salvation Army and The Upper Room.
---
2018 Self Sufficiency RFP
The EWF seeks proposals to help women and families reach self-sufficiency. Families are considered "self-sufficient" if they have access to basic needs and resources. The Self-Sufficiency Standard is published by Pathways PA, a nonprofit advocacy group for women and children, and measures how much income is needed for a family of a certain composition in a given county to adequately meet their minimum basic needs without public or private assistance.
Download the 2018 Self Sufficiency RFP below
---
For more information or to join, call us at (814) 454-0843.