Parishioners Extend Generosity Beyond Church Doors
December 18, 2018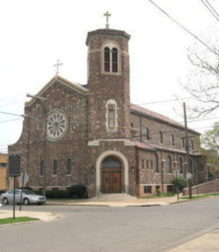 Located in the heart of Little Italy, St. Paul Roman Catholic Church was founded in 1891 and continues to be an anchor in the neighborhood. The church recently received a Helping Today grant for a capital project in the parish's social center that includes the replacement of an ADA lift and a renovated ADA family restroom. About 10-15% of community members who visit the social center have accessibility needs.
"The St. Paul Roman Catholic Church community expresses its heartfelt appreciation for the support of The Erie Community Foundation," said Brian Ferraro, Parishioner and Finance Committee Member, of the Church. "Without this grant it would have been more difficult to bring this project to fruition. We are very grateful the grant allows us to continue offering services and outreach to our parishioners with handicaps and the community at large."
The social center hosts a variety of community activities including a weekly free meal program for 75 community members, a weekly food pantry serving between 80-100 community members, and is used during the annual Italian Festival in August. In addition, the center is an election polling location.