Only BIPOC-led Dance Company Increases Access to the Arts
December 19, 2022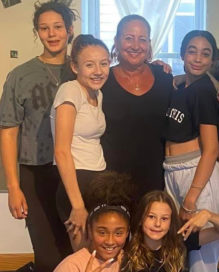 Erie Dance Theater, the only black-owned dance studio in the community, recently received a $20,000 grant from The Erie Community Foundation to regain pre-pandemic enrollment numbers.
"Erie Dance Theater's reputation for high-quality dance instruction and performance led to a steady increase of students, maxing out at 150 youth prior to COVID," said Rachel Cacchione, director of Community Impact. "Once classes resumed in the fall of 2021, class enrollment dropped to a low of just 50 students." Through the grant, 45 students received scholarships for the dance school's traditional nine-month program and costs were covered for 36 students enrolled in the three-week summer intensive.
The goal of Erie Dance Theater is to provide access to comprehensive dance education to low-to-moderate income youth, many of whom are impacted by poor health, unstable childhood environments, and low self-image. "This grant will transform lives by offering an outlet for students to express themselves and thrive," Cacchione added.