Home is Where the Suitcase Is
November 20, 2017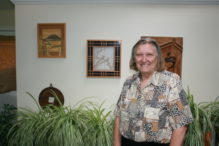 Judith Dormann wakes up every morning surrounded by furniture, artwork and trinkets from all over the globe. Her family room shelves are full of sake vases from Japan; hallway walls packed with framed prints, calligraphy and wooden carvings from South Korea connect to the front foyer where porcelain vases are filled with walking sticks bearing location tags from all over Germany. These items are just a few of the souvenirs that commemorate Dormann's thirty-year career traveling the world teaching for the Department of Defense in American military schools.
Dormann feels beyond blessed to have lived such a full life. She established the Judith Dormann Good Apple Scholarship at The Erie Community Foundation in 2016 to give students a chance at the same opportunities. This scholarship is intended to financially support and encourage students who may not otherwise consider post-high school education or training. The Good Apple Scholarship was first awarded in 2017 and it will keep giving forever through the scholarship fund at the Foundation. "I've already decided to increase the number of scholarships awarded each year and the dollar amount given out," said Dormann. "Increasing those two simple things helps me instill passion in young people who are going to make Erie a better place."
Dormann was encouraged early on in her education to apply for scholarship opportunities for which she did not believe herself to be a strong candidate. Nevertheless, it was these opportunities that ended up providing her with keepsakes capable of filling a museum. A loyal native, even though she has traveled across the globe, she cannot imagine having the amount of pride she does for Erie in any other location. "I trust The Erie Community Foundation undoubtedly and would highly suggest them to anyone who is thinking about leaving a legacy," said Dormann.