Gunther Edelmann Scholarship Fund
February 15, 2023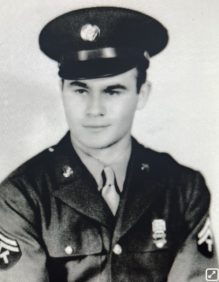 The North East Community Foundation is pleased to announce the establishment of the Gunther Edelmann Scholarship Fund benefitting future North East High School graduating seniors. Mr. Edelmann's family created the scholarship to honor his life and service to his country.
Mr. Edelmann, who will celebrate his 100th birthday this August, served our country as a World War II Veteran. He is a former North East High School teacher and coached North East High School wrestling and football. Born in Bochum, Germany in 1923, he immigrated to the United States through Ellis Island at age three and became a citizen at age 15.
After graduating in 1942 from Ferndale High School in Johnstown, PA, he began college at Indiana PA State Teachers College. After completing one semester, he voluntarily enlisted in the Army and served as a topographer in WWII. He was honorably discharged in 1946, returned to Indiana and earned his B.S. degree in Education. Upon graduation, he enrolled at the University of Pittsburgh where he earned his M.L. (Masters in Letters) degree in 1950 and began teaching in Johnstown, PA. During his successful 31-year teaching career, he specialized in teaching social studies, world history and world cultures.
In 1952, Mr. Edelmann and his wife Beverly, who was also an educator, moved to North East to raise their five children. In 1953, Mr. Edelmann obtained a teaching position at North East High School where he subsequently established the wrestling program in 1959 and remained North East High School's head wrestling coach until 1968. During his nine-year tenure as head wrestling coach, he produced 15 County Champions, a District Champ and four of his student wrestlers subsequently became well-known and respected high school head wrestling coaches in North East, Ripley, Westfield and Cleveland, while another started the North East youth wrestling program in 1973. Mr. Edelmann remained involved with North East wrestling until 1979, during which time he coached hundreds of athletes - including one of his sons.
Mr. Edelmann taught students and athletes many life lessons until he retired in 1983. For his service to North East High School, the 1960 yearbook and a wrestling room in the high school were dedicated to him. He was inducted into the North East Athletic Hall of Fame in 2022.
He is most proud of his five children, all of whom had "Mr. Edelmann" in 11th grade World Cultures class. Because of Gunther and Beverly's commitment to education and their value of service, all five of their children graduated from college and selected careers of service in the military, law enforcement, teaching, healthcare, and architecture. Gunther's and Beverly's legacy lives on in their six grandchildren and two great grandchildren.
The newly established Gunther Edelmann Scholarship benefits North East High School students who plan to continue their education at an accredited post-secondary college or university; who have demonstrated academic success and a strong work ethic; and who are willing to sacrifice for others and the greater good.
Apply Here