Grant Helps lower Maternal and Infant Deaths among African American Women
April 22, 2021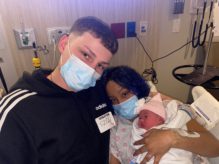 The death toll among black mothers and babies is staggering. Black babies in Erie County are almost four times more likely than Caucasian babies to die before their first birthday. Black mothers in Pennsylvania have maternal complications at a rate of two times the overall rate of other mothers in the state. The inequity is palpable.
With a grant from The Erie Community Foundation, Emma's Footprints launched a prevention program to save the lives of mothers and their babies. "This issue has long been an Erie Vital Sign indicator that the Foundation has measured, said Mike Batchelor, president of The Erie Community Foundation. "Emma's Footprints is providing a meaningful pathway forward to positively impact the numbers while also offering hope and equity to mothers and families."
"Over the past seven years, we have walked alongside 1,250 grieving families and frankly, that's too many, said Tracy Dailey, founder of Emma's Footprints. "While we will continue to provide healing to those who have experienced a loss, if we can save one mother, one baby, we are on our way to setting this injustice right. We will not stop at preventing deaths of Black mothers and babies but we must start here because these statistics are so high compared to those of our White sisters."
Emma's is partnering with BirthRoot Community Doula Alliance and Erie City Moms to provide advocacy, education, doula services, community connections, and mentoring for families from the time baby is in utero to age 12 months.
Any Black woman looking for doula support and care during her pregnancy may be eligible. To learn more about the Emma's Footprints prevention program, contact Emma's Footprints Director of Prevention Tica Nickson at 814-449-6200 or Tica@EmmasFootprints.com.