Food Insecure No More
November 29, 2017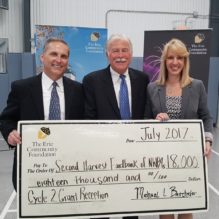 In Second Harvest Food Bank's 11-county service area in Northwest Pennsylvania, 75 percent of households are food insecure according to the 2016 Map the Meal Gap study from Feeding America. Children and their families are living without adequate amounts of nutritious food necessary for healthy lives, but there is something our community is doing to help.
This fall, Second Harvest Food Bank has tackled this problem head on and kicked off a School Pantry Pilot Project at Edison Elementary School. Groceries are provided for students and their families to offer a convenient and cost-effective solution to child hunger. Some families who may not know about or frequent their local food pantry are those or have and will continue to benefit most directly from this project.
On average, 150 families are served once a month through the Edison School Pantry. Each family receives 30-50 pounds of healthy food, including fresh produce and nutritious dairy items, at each distribution. Second Harvest is working to create a vital partnership with local schools that will transform our community and help alleviate grumbling bellies in our schools' cafeterias and our students' homes.
"It is our goal to take the funds so graciously granted to us by The Erie Community Foundation and turn them into tangible improvements for kids right here in Erie," said Executive Director, Karen Seggi. "Over time, we will take the successes and mistakes made through this pilot project, make adjustments and be even better suited to serve the kids, neighbors and coworkers who need it most."