The Seeds of Change
December 12, 2017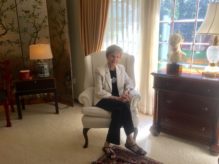 "Even if I knew that tomorrow the world would go to pieces, I would still plant my apple tree today," said Martin Luther King Jr. Even though she does not know what tomorrow may bring, Corry Community Foundation board member Phyllis Marchitelli is planting seeds of philanthropy today.
Phyllis Marchitelli could not keep a smile off her face when speaking about giving back through the Romeo and Phyllis Marchitelli Fund established with her husband at The Corry Community Foundation in 2005. When Marchitelli noticed Corry was the poorest city in Erie County, she immediately started to invest in the community that holds such a special place in her heart.
"Philanthropy is like planting trees knowing that you might never get to enjoy the shade," said Marchitelli. "You may not get to enjoy the assets of establishing an endowment fund, but you know you are giving to grow a better future." The Corry Community Foundation is a large contributor to ensuring the continued success of local nonprofits as well as community-wide programs and events.
Marchitelli is continuously humbled by being a part of this funding process through The Corry Community Foundation Board of Directors. Watching the umbrella of funds at the Foundation build a sense of community in Corry is her favorite part of her work as a philanthropist.
Marchitelli wants others who might be thinking about giving to realize they do not have to donate large amounts to make a difference. All a donor has to do is plant a seed that might eventually grow a tree. "You can have the idea of a dream, but unless you act on it, it is like you are in a rocking chair: you can rock back and forth, but you are never going to get anywhere," said Marchitelli.