Local Attorney and Nurse donate $1 Million to The Erie Community Foundation
September 06, 2017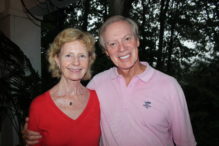 Like all parents, Attorney Bob Dwyer and his wife, Ann Maureen "Mo" Dwyer, have invested heavily in their children. After 88 years of grade school, high school, college, and post-graduate tuitions, they have also decided to invest heavily in another of their passions, the Erie community, by creating a $1 million endowment fund at The Erie Community Foundation.
"Frankly, the people who love Erie and are concerned for its future just can't sit back and expect government to solve our problems," said Attorney Dwyer. "We are making this gift because we feel a responsibility to create opportunities for others."
The Dwyers met at Georgetown University, where Mo earned her B.S. degree in nursing and where Bob received his undergraduate degree, followed by his juris doctorate from Georgetown University Law Center. After moving to Erie, Mo first taught nursing at Saint Vincent Hospital, and then worked for 25 years at UPMC Hamot Medical Center. Bob joined the Knox Law Firm where he concentrates his practice on Business & Tax and Estate Planning & Trust Administration.
Over the past 40 years, both Mo and Bob have committed themselves to making a lasting impact on our community. "Bob and Mo understand everyone has their own timetables and resources, but they also believe everyone should give something back to their hometown," said Foundation President Michael L. Batchelor. "If their gift inspires others, it will have an even greater impact."
The Dwyers are also active volunteers. They were the first host couple of the New Year's Eve celebration First Night Erie. For years, they helped the Sisters of Saint Joseph with their Thanksgiving Dinner for the homeless. While working and raising their five children, Mo managed to also volunteer at Saint Peter Cathedral and School. Bob's community service has been recognized by United Way of Erie County through its Tocqueville Award, and by the Erie Regional Chamber and Growth Partnership through its Louis J. Tullio Community Service Award. The Hamot Health Foundation also recognized Attorney Dwyer as Philanthropic Advisor of the Year.
"The Dwyer Family Fund will benefit a broad range of local nonprofits as determined by Bob and Mo," explained Batchelor. "They have expressed a desire to promote opportunities for the less fortunate and to preserve Erie's cultural offerings for everyone. The fund will eventually become unrestricted so it can be used for the most pressing local needs, as determined by future boards of The Erie Community Foundation."
"Seeing your children grow and prosper is rewarding," said Mo Dwyer. "Bob and I also want to see our community grow and prosper. We know this gift will make a difference today, and for generations to come."