Alumni Share Success with Students
December 04, 2018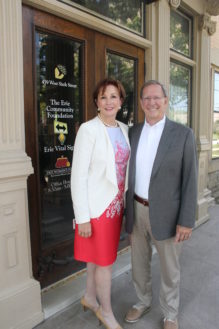 Deborah and Douglas Murphy have always held the Erie community close to their hearts. Doug, now retired, was one of the founding Principal architects of Weber Murphy Fox, a full-service architecture firm. Deborah is Senior Vice President - Wealth Management at UBS Financial. She has been with the firm for over 42 years and is a CERTIFIED FINANCIAL PLANNER™ (CFP®). She is also a current Board Trustee at The Erie Community Foundation.
"My first year as a trustee, I attended the scholarship reception," said Deb Murphy. "I was just so impressed with the funds being granted, the students and the need that I talked to Doug. We decided we wanted to be part of that and established the Douglas and Deborah Murphy Scholarship Fund."
Having both graduated from the former Strong Vincent High School, the Murphys knew they wanted their scholarship to benefit the students who currently attend their alma mater which is now Erie High School.
"At the time we went to Strong Vincent High School, it was probably one of the most vibrant high schools in the City," said Doug Murphy. "Since then, the nature of the high school has changed and many of the current students do not have the advantages we had. We decided to establish our scholarship to give these students a chance at higher education."