A Story of Perseverance Paying Off for Generations
October 24, 2022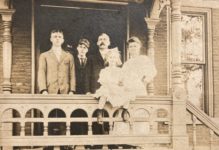 The story of the Lucinda Kelsey Scholarship Fund is one of persistence, hard work, and achievement – a story of how one woman's belief in education impacted generations of her family and continues to impact the lives of Erie County students.
Lucinda Kelsey, or "Aunt Nin" as the family fondly called her, was born in 1857. She dedicated her life to teaching, never married nor had children, and passed away in 1936. In her will, she left $500 in a college fund trust for her great-nephew, Will Schaaf.
After she passed, young Will visited Aunt Nin's lawyer to claim his inheritance. Her attorney, John Spaeder, said he would give Will $125 to start, but Will would need to present his grades each year to receive the next installment. Between Aunt Nin's money, pay from many odd jobs and Attorney Spaeder's encouragement, Will paid his way through college. He graduated from Edinboro University and continued his education at Cornell Law School. After law school, he was offered a position with the Marsh Spaeder firm, where he eventually became a partner, building a successful 60-year career.
Will passed his hard-working spirit on to his son Bill - who also became a lawyer and partner at Marsh Spaeder - but Bill's entrepreneurial passion was being co-owner of Polymer Molding Inc (PMI). After Bill passed away, his daughter's family established the Lucinda Kelsey Scholarship Fund to honor Aunt Nin's investment in education, which changed the family's fortunes. The fund supports post-secondary education for employees of Polymer Molding Inc. (PMI), their children, and their grandchildren.
The establishing donors' goal is that PMI's employees, children, and grandchildren will use the $10,000 annual scholarship - equivalent to $500 in 1936 - toward their own educational dreams. Those dreams may include trade school, community college, university, or graduate studies.
Fund holdersErin and Alex Robertson said, "The Lucinda Kelsey Scholarship Fund operates on the principles that with the right help at the right time, a commitment to education, someone who believes in you, and lots of hard work, anything is possible."