Young Erie Philanthropists Double Down Grant Dollars with Hamot Health Foundation's Support
May 27, 2021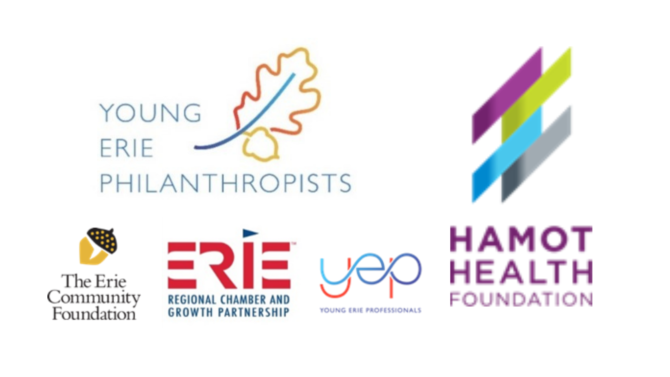 The Young Erie Philanthropists, created in partnership with the Regional Chamber and Growth Partnership, the Young Erie Professionals and The Erie Community Foundation issued a Request for Proposals on May 12, 2021 for their annual grant opportunity. Originally seeking to award up to $10,000, the Young Erie Philanthropist Advisory Committee is pleased to announce a $10,000 increase in available grant dollars thanks to the support and partnership of the Hamot Health Foundation (HHF). With Hamot Health Foundation's $10,000 contribution, the 2021 grant will now double and award up to $20,000.
"Hamot Health Foundation is thrilled to invest in the work of Young Erie Philanthropists," said Charles "Boo" Hagerty, President of Hamot Health Foundation. "These engaged members of our young professional community will bring a fresh set of eyes to local philanthropy; Erie will be better because of it. We are excited to partner with the Erie Community Foundation and see the group leverage HHF's investment to create even greater support as we collectively continue to shape our community's transformation."
The Young Erie Philanthropists Endowment, a donor advised fund of The Erie Community Foundation, was established to support local initiatives aimed at making a profound impact on attracting and retaining young people in Erie. They are currently seeking proposals for projects and initiatives targeting the attraction and retention of youth and young professionals, ultimately addressing various needs in the local region. Such projects (in no priority order) may include but are not limited to job attraction, career readiness, youth education, professional development, and economic & community development.
Proposals should not exceed $20,000. Any Erie County 501(c)3 nonprofit organization is eligible to apply, with certain restrictions on the use of funds. The deadline to submit applications has been extended by two weeks and will now be June 25, 2021. Finalists will be selected by July 23, 2021, and grant recipients will be announced by September 10, 2021. Interested organizations should click here for more information.