Young Erie Philanthropists awards largest grants to date!
September 15, 2022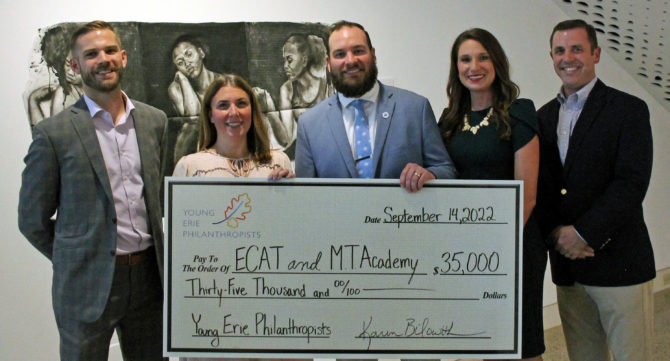 Young Erie Philanthropists, a donor-advised fund housed at The Erie Community Foundation and overseen by a volunteer advisory board, announced their largest grants awarded to date. At an event held at the Erie Art Museum, Young Erie Philanthropists, along with corporate partners, awarded grants totaling $35,000 to two local nonprofit organizations.
Mother Teresa Academy received $20,000 for its Full STEAM Ahead! program which will better prepare Erie students to continue their STEAM path as high school-ready students. This will provide students with the necessary skills and experiences to pursue coursework in this field, resulting in an increased number of successful Erie graduates at the postsecondary level. The goal through this initiative is to foster an environment and community that values and produces future mathematicians, scientists, engineers and artists into the Erie workforce.
Erie Center for Arts & Technology (ECAT) received $15,000 for its Expanding the Construction Trades in Erie County program. At the end of this pilot project, ECAT will have successfully trained 15 program graduates in the field of Construction Trades and provided them with on-the-job training opportunities for career growth. ECAT will also be positioned to undertake 5-10 neighborhood development projects in and around the East Avenue corridor to impact the revitalization of this traditionally disinvested neighborhood.
"We are proud to support these projects as they align with our mission, which is to retain local talent, young professionals and emerging leaders in our region," said TJ Richter, Young Erie Philanthropist Advisory Board Chair.
Funding for these two grants were made possible by Young Erie Philanthropists and its corporate sponsors:
The Erie Community Foundation
Hamot Health Foundation
Erie Regional Chamber & Growth Partnership
Great Lakes Insurance Services Group
Erie Beer Company
Loesel-Schaaf Insurance Agency
ECON Steel
Hanes Erie
Patterson-Erie Corporation
Red Letter Hospitality
"At Hamot Health Foundation, we firmly believe that philanthropy changes lives," said Charles "Boo" Hagerty, President of Hamot Health Foundation. "We are proud to support Young Erie Philanthropists—a new generation of community-minded leaders who are tackling important local work."