Young Erie Philanthropists awards largest grant to date!
September 13, 2023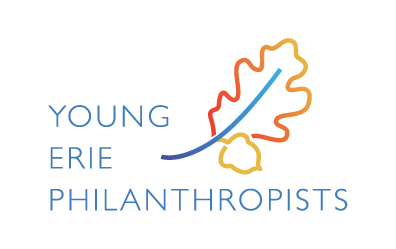 Young Erie Philanthropists is a field of interest fund housed at The Erie Community Foundation and overseen by a volunteer advisory board. Young Erie Philanthropists is a group of young professionals working to elevate Erie. Young Erie Philanthropists awards annual grants to support economic, workforce and community development and offers education, networking and events to members.
At an event held at the Erie Art Museum, Young Erie Philanthropists, along with corporate partners, awarded the largest grants since its inception, $40,000 to Our West Bayfront for their Community Home Rehabilitation Project.
"We believe in the transformative impact Our West Bayfront is having on our community," said TJ Richter, Young Erie Philanthropist Advisory Board Chair. "We are proud to support this project as they align with our mission, which is to retain local talent, young professionals and emerging leaders in our region."
This project will renovate a blighted property to create a safe, affordable home for a family, advancing Our West Bayfront's neighborhood stabilization activities. The property, located at 811 West 7th Street, has had a negative effect on the surrounding block following years of neglect. Supervised and trained by OWB staff, volunteers will lower the costs of construction by undertaking much of the rehabilitation activity.
"We are very appreciative of this grant as it will provide critical support for tools, equipment, and construction materials," said Anna Frantz, Executive Director of Our West Bayfront. "This pilot project, which we will launch in the winter of 2024 and hope to be completed by summer 2024, is anticipated to be the first in a series of projects that will advance OWB's neighborhood stabilization activities."
Funding for this grant was made possible by Young Erie Philanthropists and its corporate sponsors: Grant sponsors: Great Lakes Insurance, Hanes Erie, Hamot Health Foundation, Accudyn, Becky & Bill Hilbert, Baldwin Brothers, Inc., Erie Beer Company, Janitors Supply, Inc., Tim & Lisa NeCastro and EconSteel, Frontier General Contracting, Knox Law, Loesel-Schaaf Insurance Agency, Logistics Plus, Erie Regional Chamber & Growth Partnership and The Erie Community Foundation. The event itself was made possible by Erie Beer Company, MacDonald, Illig, Jones & Britton LLP, Marquette Savings Bank, Red Letter Hospitality and Revox Media.