LGBT Funds Issues RFP
September 18, 2023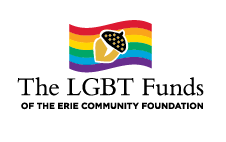 The LGBT Funds of The Erie Community Foundation offers an annual grant program to support projects that address various needs in the LGBTQ+ community, which include, but are not limited to:
Safe schools
Youth homelessness
Mental health, substance use and suicide prevention
Health and wellness
Housing and workplace equality
Family support and recognition
Individual proposals can request up to $7,500.
All grantees are required to:
Provide a six-month progress report
Complete a final written report and closing presentation
Funded teams agree to have their project featured in:
Media publications/press events
A presentation of their project to the board
Inclusion in ECF publications
Inclusion in Fund related requests, such as Erie Gives
Eligibility: Any Erie County 501(c)3 nonprofit
Ineligibility: For-profit, sectarian religious activities, fund-raising solely, hospitality projects
Deadline: Applications must be submitted here by October 13, 2023.
Important Dates: Finalist(s) will be selected by October 26, 2022 and grant recipient(s) will be announced in early November.
Questions?
Please contact Olivia Burgess, Philanthropic Services Officer at The Erie Community Foundation by email or phone at 814-454-0843.
Apply Here
Contact Olivia